Animation - Merchandise
Yuki Kimono is one of Lalaloopsy Land's more exotic residents! She loves to giggle and laugh. She likes folding paper into fun animal shapes, but sometimes she folds them too many times and she can't tell what they are. Her name is based off of Japanese origin, as well as her signature formal robe - a kimono!
About Yuki
Appearance
Yuki is a very pale skinned lalaloopsy with a white powdered face. She has red lipstick, very bright pink cheeks, and a pink-red marking (Flowers) by her right eye. Her eyes are plain black, while her hair is a very bright, dark blue worn up and pulled into multiple buns. On the top section are multiple pink flowers with a blue one in the center.
Yuki wears a pale pink kimono with magenta-red, and blue lining, and blue, pink, and red flowers. She wears socks and a pair of sandals.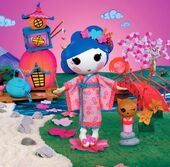 Pet
Her pet is a brown cat. It wears a pink and red kimono.
Home
Her home is composed of tiered paper lanterns. 
Trivia