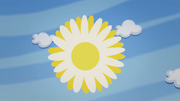 The sun in Lalaloopsy Land is represented as a flower that behaves like its real counterpart having a sunrise-sunset cycle.
Chronologically between the webisodes "Jewel Sparkles' Un-Birthday Party" and "Bea Spells-a-Lot and the Pet Talent Show" along with the "We're Lalaloopsy" series is represented as a flower of yellow petals and stigma. From the webisode "Anchors Away" up to "Lalaloopsy: Band Together" (Including the Girls and Babies movies) is depicted as one of yellow stigmas and white petals with a ladybug on one of its leaves. It is remarkable to mention that the ladybug is alive and can be seen moving when the camera focuses on the sun.
Finally in the webisode It's A Wrap and the opening theme of the TV series it is represented as a white flower with petals and yellow stigma without the ladybug. It is notable to mention that a heart-shaped variant appeared exclusively in the episode ​​Rosy's Quiet Tea
Ad blocker interference detected!
Wikia is a free-to-use site that makes money from advertising. We have a modified experience for viewers using ad blockers

Wikia is not accessible if you've made further modifications. Remove the custom ad blocker rule(s) and the page will load as expected.