Sunny and Berry's farm is where Sunny, Chick, Berry and Cow reside. It is located on the grasslands of Central Lalaloopsy Land.
The Farm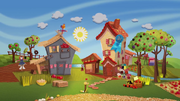 Sunny's house
TBA
Berry's house
Berry's house is light yellow in a checkerboard pattern with the roof decorated with pancakes, jam, and berries. On the other side of the house are multiple 1st prize ribbons.
Barn
TBA
Media Appearances
Visitors
Ad blocker interference detected!
Wikia is a free-to-use site that makes money from advertising. We have a modified experience for viewers using ad blockers

Wikia is not accessible if you've made further modifications. Remove the custom ad blocker rule(s) and the page will load as expected.