This page describes Sunny Side Up's relationships with other characters in the Lalaloopsy series and other media sources.
Relatives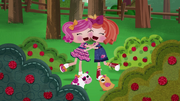 She is Sunny's twin sister.
Friends
Enemies/Rivals
Sunny has no known enemies or rivals.
Love interests
This section is about shipping.
As hints and evidence for ships are mostly speculation, this page may contain personal points of view.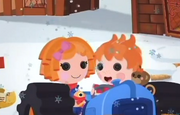 In In a Jam, Ace tries to get Mittens out of the snow so they can play, and decides to use her tractor, but Ace really doesn't know how to drive a tractor, so she teaches him. When Ace gets his face covered in smoke, she wipes his face. At one point, when they were slipping on the ice they appeared to be dancing. In the picture shown, Ace and Sunny looked at each other.
Worth taking note that they look the same, they both have orange hair, denim overalls, and red shoes, and they live close to each other on the Lalaloopsy Land Map. They were also at the Super Silly Party together and danced with everyone else.
Ad blocker interference detected!
Wikia is a free-to-use site that makes money from advertising. We have a modified experience for viewers using ad blockers

Wikia is not accessible if you've made further modifications. Remove the custom ad blocker rule(s) and the page will load as expected.