Sugar Fruit Drops is the sugariest and fruitiest resident of Lalaloopsy Land! She's a real sweetie who sugar-coats everything she says. She loves juicy tidbits, pink grapefruit, and anything bite-sized! Sugar is the older sister of little Giggly Fruit Drops. Her name is based off of her passion for sugary sweet but fruity gumdrops!
About Sugar
Appearance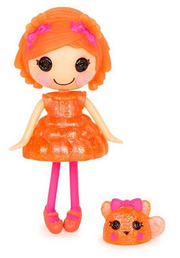 Sugar is a fair-skinned girl with typical black button eyes and very pale cheeks. She has bright orange hair with slanted bangs and stylish curled locks with small hot pink bows. Her dress is bright orange with three orange buttons going down the torso. There are short open sleeves on each side. Gum drops aligned bottom to top from largest to smallest make up the skirt! Along with her dress being gum-drop themed, it's also filled with glitter!
In her new mini and large doll, her hair is bright pink with orange bows.
Pet
Sugar's pet is an orange gumdrop mouse. It is orange with small ears and a tail, and wears a pink bow on the top of its head. Its eyes are big and black. Along with a small black nose, and pink cheeks. It has a little curly tail.
Home
Main article: Sugar's house
Trivia
February 15th is National Gumdrop Day.
Her hair color changed to pink in her new mini.
Her shoes are now similar to Mango's.
Her bows are orange in her new mini.
Gallery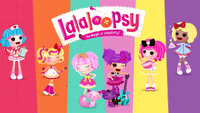 Click here to view the gallery.