"Hey. My name is Storm E. Sky and I was made from wisps of a rain cloud. I'm the newest member of L.A.L.A. Prep, I'm still getting to know everyone… sometimes, I can be a little misunderstood. My pet cat knows me the best, I love to practice my guitar and rock out together. My first new friend is Cloud E. Sky. She's cool but she keeps trying to convince me that unicorns are real." - Storm E. Sky
About Storm E.
Appearance
Storm has pale brown skin with fuchsia lips and peach-pink cheeks. She has long purple hair worn in pigtails with violet streaks through it. She wears a glittery fuchsia bow on the top of her head.
Her attire consists of a silver jacket over a black and white top and a black two layer tutu skirt made of tulle. She also has black boots with purple strings; one of which is untied, and wears tights of purple and lavender stripes.
Pet
A grape-colored cat with a black tuft of hair and a jagged tail resembling a lightning bolt. It has a pale pink nose, cheeks, and inner-ear. Around it's neck is a yellow collar.
Home
Main article: Storm E.'s van
Trivia
Gallery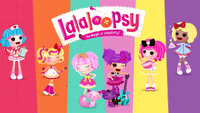 Click here to view the gallery.