Snap Pea is laid-back, loves nature and would sleep under the stars even if there's a comfortable bed inside for her. She loves giving everyone a pretty flower for their warmth, kindness... or just because! She loves eating flowers, too.
About
Appearance
Snap Pea is a dull teal pony, has neon pink hair to match her left front leg and right back leg. Her wings are ivy green. Snap Pea wears a white flowery shaped skirt and a daisy head ornament, while around her left back leg is a flower wrapped around it. She comes with a potted daisy and teal brush.
Gallery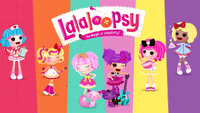 Click here to view the gallery.