Sleepy Sheep
is an online Lalaloopsy game staring
Pillow Featherbed
.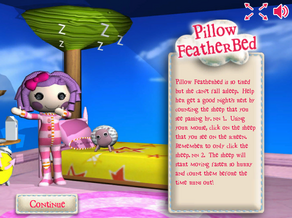 Feel free to check out the Online Games page on the official Lalaloopsy website.
Information
This game is very simple and is played by clicking sheep as it passed along the screen. You are given three tries and will lose one for each non-sheep clicked. After three minutes if you have not clicked ten sheep then you will lose the game/level.
There are 6 levels in the game and for each level the speed of the pets on it get faster.
How to Play
Use your mouse to click on the sheep.
Trivia
Gallery
Ad blocker interference detected!
Wikia is a free-to-use site that makes money from advertising. We have a modified experience for viewers using ad blockers

Wikia is not accessible if you've made further modifications. Remove the custom ad blocker rule(s) and the page will load as expected.