This page describes Sir Battlescarred's relationships with other characters in the Lalaloopsy series and other media sources.
Relatives
Sir has no known relatives.
Friends
Neutral/Unknown
TBA
Enemies/Rivals
Sir has no known enemies or rivals.
Love interests
This section is about shipping.
As hints and evidence for ships are mostly speculation, this page may contain personal points of view.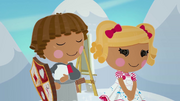 At the beginning of Nighty Knight, Spot almost gets hit by the snowman's head, but Sir snowboards on his shield and blasts through the snowman's head. He even helps Spot up and calls her 'milady'. After he leaves, Spot swoons over him, calling him a brave knight.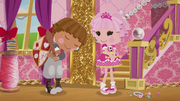 When Jewel gets caught in her jewelry, Sir uses his sword to break through the jewelry and saves Jewel. When he leaves, Jewel swoons over him, calling him 'gallant'. All through the episode, Sir gives compliments to Jewel, and even hopes that her path 'may be strewn with flowers'. At the end of the episode, he gives the amulet to Jewel. Its possible they make like each other.
When Pix E. was too scared to get down from the bush, Sir rescues her and gently carries her (which rarely happens). She was supposed to thank Sir but left early. So she went to his castle to thank him and also offers her help to cure his fears. However, unlike Spot and Jewel, Pix E. didn't swoon over him but seems comforting to him.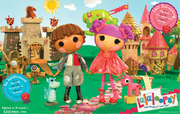 Sir and Lady were released in a package together. They live next to each other, too. In Lady's birthday video, Sir goes a long way just to give her a flower. They are a close-canon couple.
Ad blocker interference detected!
Wikia is a free-to-use site that makes money from advertising. We have a modified experience for viewers using ad blockers

Wikia is not accessible if you've made further modifications. Remove the custom ad blocker rule(s) and the page will load as expected.