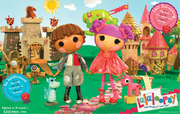 Sir's castle is where Sir and his pet dragon reside. It is located on the grasslands of Eastern Lalaloopsy Land. Not a lot of people come to his castle. The only time when people (excluding Lady and her unicorn) started coming over was in Nighty Knight.
The Castle
Sir Battlescarred lives in a stone grey fortress fit for a knight. It is well protected with barred windows, a wooden portcullis, and a moat. The archery training grounds are just outside his fort. His red coat of arms hang from the tops of the side towers, and a horse stands at the tallest tower.
Media Appearances
Visitors
Trivia
Lady Stillwaiting is likely the most frequent visitor.
The closest neighboring residence is Lady's castle.
Video
Ad blocker interference detected!
Wikia is a free-to-use site that makes money from advertising. We have a modified experience for viewers using ad blockers

Wikia is not accessible if you've made further modifications. Remove the custom ad blocker rule(s) and the page will load as expected.