Pix E.'s house is where Pix E., Firefly, Twinkle and Baby Firefly reside. It is located on the grasslands of Eastern Lalaloopsy Land.
The house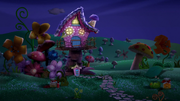 The house looks best at the time just after the sun has set and multiple fireflies have come out. She has many whimsical plants, like curly grasses, giant wild flowers, and colorful mushrooms. Jars of extra pixie dust are scattered on her lawn just in case she needs them in a hurry.
Her home is on top of a tree! It is pink paisley with a roof made of green leaves and has an odd curve on top of it. Her windows are yellow and green, and her front door is blue wood.
Unknown room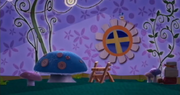 It is currently the only revealed interior of the house. It is assumed to be the side of either the dining room or the bedroom.
Media Appearances
Visitors
There are no known visitors.
Trivia
TBA
Ad blocker interference detected!
Wikia is a free-to-use site that makes money from advertising. We have a modified experience for viewers using ad blockers

Wikia is not accessible if you've made further modifications. Remove the custom ad blocker rule(s) and the page will load as expected.