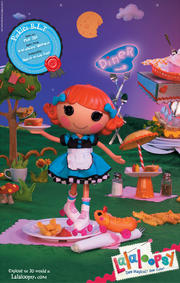 Pickles' diner is where Pickles and her pet hot dog reside. It is located on the grasslands of Central Lalaloopsy Land.
The Diner
It appears to be a messy structure with a big diner sign just outside of it, held up with many forks and spoons. She has a picnic blanket set outside, along with a few tables and french fry trees and plants. It has an ice cream sundae with some curly fries on top of the roof.
Media Appearances
Visitors
Trivia
TBA
Gallery
Ad blocker interference detected!
Wikia is a free-to-use site that makes money from advertising. We have a modified experience for viewers using ad blockers

Wikia is not accessible if you've made further modifications. Remove the custom ad blocker rule(s) and the page will load as expected.