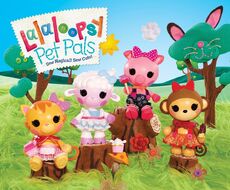 Pet Pals are spin-off series based on Lalaloopsy. The inspiration behind them seems to be the pets, though they are not the characters' actual pets. They are about the size of Lalaloopsy Littles and wear cute outfits. So far there has only been eight released:
Large Core
Tinies
Main article: Lalaloopsy Tinies
Trivia
TBA
Ad blocker interference detected!
Wikia is a free-to-use site that makes money from advertising. We have a modified experience for viewers using ad blockers

Wikia is not accessible if you've made further modifications. Remove the custom ad blocker rule(s) and the page will load as expected.