Peggy Seven Seas is one of Lalaloopsy Land's biggest treasure-loving pirates. She likes to sail her ship to new and exciting places, and loves to put secret messages in a bottle that she tosses out to sea. Her name is based off of a pirate's typical wooden peg leg, as well as her love for the sea - which there are seven!
About Peggy
Appearance
Peggy has light brown skin with bright rosy-pink cheeks and black button eyes with one covered by a red heart shaped eye patch on a thin black string. She has burnt orange hair worn in two curled pigtails held with a black bow on one, and her black pirate hat with a pink bow on the other. Her bangs are straight cut. She also has two small cowlicks.
Peggy's dress is red and white striped with tassel-like material along the hemline. Her sleeves are red but only mid-way, in which the rest is white and very loose. On top of her dress is a black coat with gold lining and clasps at her chest, revealing a white cravat-like segment with a little red bow. She wears red boots, with orange-yellow at the toe and pink straps along the front. She is shown to have a single gold hoop earring.
Pet
Peggy's pet parrot is fuchsia pink with an orange stomach, wings, and beak. One eye is a button, while the other is an orange heart, similar to Peggy's eye patch. One wing is wooden.
Home
Peggy lives in her own hot pink pirate ship! She currently has her ship anchored beside the beach. Her ship's sails are striped and the largest one has a bright heart stitched onto it. It seems up in the crow's nest Patch Treasurechest likes to play with Peggy. 
Trivia
September 20th is Talk Like a Parrot Day.
Peggy was introduced along with Winter Snowflake.
One of her legs is wooden, like a pirate might have had.
Her Parrot has a wooden wing.
Gallery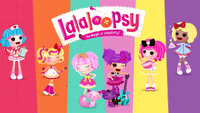 Click here to view the gallery.