Paint Park
is a minigame staring
Spot Splatter Splash
, she must liven things up by finding the colorless objects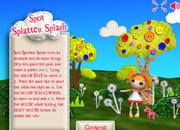 and painting them before time runs out!
The genre is puzzle.
Also feel free to check out the Online Games page on the official Lalaloopsy website.
Information
You have a total of 3 minutes to find all of the painted objects. As Spot moves, a green arrow is underneath her to point you out to the direction of the plant or object she wishes to paint next.
She will start out by walking, but after a few seconds she will start to run instead, until you stop or turn once more.
In level 1 you paint tomato/pumpkin and strawberries, level 2 has flowers, and level 3 has mushrooms.
Keys
Up, down, left, right: Moves Spot around the maze.
Space bar: use when near an object to paint it.
Mouse wheel: Used to turn the maze for better angles.
Trivia
Gallery
Ad blocker interference detected!
Wikia is a free-to-use site that makes money from advertising. We have a modified experience for viewers using ad blockers

Wikia is not accessible if you've made further modifications. Remove the custom ad blocker rule(s) and the page will load as expected.