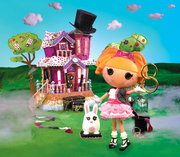 Misty's house is where Misty, Rabbit, Tricky and Carrot Bunny reside. It is located on the grasslands of Central Lalaloopsy Land.
The house
The house is glittery dark pink and purple with plenty of magical decorations! Her foyer is held up with two magic wands, her roof is shingled with playing cards, and her chimney is a top hat. In front of her home is her magician's trunk full of tricks and a mysterious smoke comes from under her house. The path leading to her home are colorful silk scarves.
Media Appearances
Visitors
Trivia
TBA
Video
Ad blocker interference detected!
Wikia is a free-to-use site that makes money from advertising. We have a modified experience for viewers using ad blockers

Wikia is not accessible if you've made further modifications. Remove the custom ad blocker rule(s) and the page will load as expected.