Marina's lighthouse is where Marina, Whale, Matey and Crab reside. It is located on the coastline of Western Lalaloopsy Land.
The house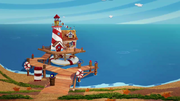 Marina lives in a shanty house atop a large life raft just off the shore. A fishing net decorates her roof and there is a spyglass on deck so she can see who is coming from miles away. Attached to her house is a red and white striped lighthouse to help ships coming in at night.
Visitors
Media Appearances
Trivia
Patch is the only known boy to visit.
Video
Ad blocker interference detected!
Wikia is a free-to-use site that makes money from advertising. We have a modified experience for viewers using ad blockers

Wikia is not accessible if you've made further modifications. Remove the custom ad blocker rule(s) and the page will load as expected.