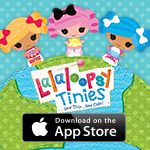 Lalaloopsy Tinies is a game on the Lalaloopsy website.
How to play
In one minute, locate the chosen Lalaloopsy; for each one found, a second is added to the clock. Afterwards, any new ones found will be added to your personal collection, which you can view the time and date founded. If all the tinies are found, then they will jump out and cheer after adding the last one.
Characters
Trivia/Goofs
Pix E. does not have wings in this game.
Spot is called "Spot Platter Splash".
Scraps is called "Scaps Stitched 'N' Sewn"
Some of the Tinies have a special feature. So far this includes:

Crumbs: The tinies form around a giant cookie and eat it.
Cinder: A carrige appears and 5 random tinies come out.
Dot: Three rockets land and three tinies come out of it with nine overall.
Haley: Haley's spaceship appears and summons 6 tinies.
Dotty: A tornado will appear and will swing two or three Lalaloopsies.
Sahara: The tinies move out of the way as she rides her carpet and the area changes to the desert.
Peggy: The tinies move out of the way and the area turns to a pirate's deck.
Pumpkin: The area changes to evening and gains a Halloween theme.
Ember: Jewel's house ingnites into flames and Ember brings her firetruck to put it out.
Rosy: Rosy's ambulance comes and brings out fixed pets.
Bea: A bus pulls up and three of the Tinies get on it before driving away.
Peppy: The tinies will form shapes and they all will cheer after a shape is formed.
Misty: Three top hats fall to the ground, and out of them appear many tiny pets.
Mittens: The tinies move out of the way and the area changes to winter.
Gallery