Lalaloopsy Babies
Comments

61
328pages on
this wiki
Lalaloopsy Babies are a brand new Lalaloopsy spin-off line that encompasses the concept of baby dolls with the classic rag doll-button eyes spin on it.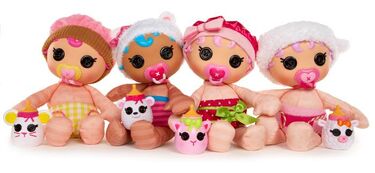 From MGA ENTERTAINMENT - Explore the magical world of Lalaloopsy and see your favorite Lalaloopsy characters when they were babies. Original Lalaloopsy characters now available as babies.
Their features include:
Soft bodies for huggable fun
Each comes with a bottle shaped like their pet and a hat that matches their personality
Character specific pattern printed on soft doll body
Unique sewn on dates stamped on their tush; Each has a belly "button"
Series 1
Released in late-fall 2013
Crumbs Sugar Cookie
Crumbs Sugar Cookie
! She's soft, huggable and super sweet, and loves fresh cookies when it's time to eat. She's always happy and she's never sad, and if you give her a treat she'll be oh so glad. Crumbs was sewn on December 4th, (National Cookie Day).
Hairstyle: Ponytail
Pacifier: Baby pink and yellow
Body pattern: Polka dots
Diaper design: Yellow plaid/checkered-type design
Hat design: Cupcake with a cherry on top
Bottle design: Mouse
Jewel Sparkles
Jewel Sparkles
! She's a princess at heart, wearing something shiny, that's how every day starts. She's the most royal baby you'll ever meet, but she'll burst into giggles if you tickle her feet. Speaking of royal, she's royally soft, cuddly and sew cute! Jewel was sewn on March 13th (Jewel Day).
Hairstyle: Pigtails
Pacifier: Light and dark pink
Body pattern: Hearts
Diaper design: Pink with white polka-dots and an ivy-green bow
Hat design: Pink with a light pink band and bow
Bottle design: Kitten
Mittens Fluff 'N' Stuff
Mittens Fluff 'N' Stuff
! She loves cold and snow. Her favorite warm drink is hot cocoa. When it's cold outside and her cheeks get red, she'll stay indoors and snuggle in her bed. She's sew soft and snuggly, she's perfect for cozying up to when the weather is cold. Mittens was sewn on December 21st (First day of Winter).
Hairstyle: Ponytail
Pacifier: Light pink
Body pattern: Snowflakes
Diaper design: Deep pink and pink stripes with blue edging
Hat design: Polar bear-like with a pink bow on one "ear"
Bottle design: Polar Cub
Pillow Featherbed
Pillow Featherbed
! She's soft as her name and loves to sleep, and will nap all day without making a peep. Although she's quiet she sometimes snores, so make sure to tip-toe across the floor. Pillow was sewn on January 3rd (Festival of Sleep Day).
Hairstyle: Pigtails
Pacifier: Dark pink and light pink
Body pattern: Stars
Diaper design: Dark pink and light pink stripes
Hat design: Lamb-like design
Bottle design: Lamb
Trivia
The logo for the Babies line is made to look like letter blocks, a common toy for infants, stacked together to form its name.
On February 17, 2014 - the Lalaloopsy Facebook page announced the release of a new game for the Babies on the official website, this game revealed the designs for Babies of Bea Spells-a-Lot & Peanut Big Top which hinted at a second wave.
On February 24, 2014 - Lalaloopsy Babies released its first commercial. It was announced on its Facebook page and released through its YouTube channel.