Lalaloopsy™ TV Series
Comments

380
328pages on
this wiki
Lalaloopsy™ the TV series is a half-hour animated cartoon that airs on Nick featuring the colorful Lalaloopsy characters from the popular children's doll line. It features the original main cast as well as a variety of other special characters who often get their own special roles in their own episodes. 
Lalaloopsy™ clips from the show are uploaded onto Nickjr.com and iTunes offers full-length episodes through a season pass as well as free short episodes. 
"Welcome to our silly land where having fun's our favorite plan"
As this is a new series, expect this page and the pages linked from it to go through a lot of changes.
About
This brand-new animated series stars the Lalaloopsy friends, who come together for daily, "fun-tastical" adventures in a whimsical world full of silly surprises called Lalaloopsy Land.
While each "Lala" has different talents and points of view, it's these differences that make this world such an exciting place where anything can--and does--happen!
Lalaloopsy is a celebration of diversity and teamwork, teaching everyone that they are special in his or her own way and each of us has something important to contribute!
Learning
Being a show mainly oriented to the younger fanbase, there will be a lesson to learn in each episode and mainly focuses on an emotional type of learning experience.
It mainly focuses on:
Resilience - Sometimes when a minor disagreement goes on, it's best to quickly resolve it and move on, never holding a grudge.
Solving problems using creativity - When everyone puts together their diverse talents and skills they can overcome any obstacle! Even silly solutions that would only work in Lalaloopsy Land.
Empathy - The lalas care for one-another and often go to great lengths to help a friend or brighten her day!
Perspective - The diversity of everyone creates many points of view.
Season 1
Ep. 1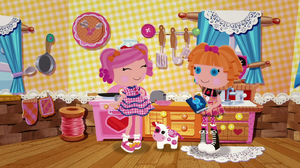 Original Air Date 03/29/13
Plot Berry tries to break a record for the biggest stack of pancakes ever.
Ep. 2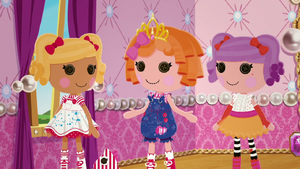 Original Air Date 04/01/13
Plot Jewel starts a princess parade to show off her tiara collection.
Ep. 3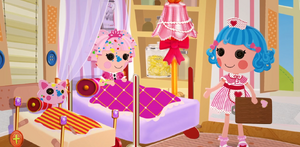 Original Air Date 04/02/13
Plot When a serious disease is spreading all throughout Lalaloopsy Land, Rosy tries to find out what is happening to everyone.
Ep. 4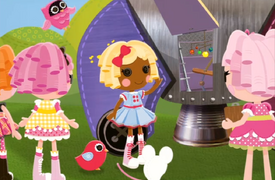 Original Air Date 04/03/13
Plot On a trip to the moon, Dot's spaceship breaks down, so her friends turn a section of Lalaloopsy Land into an artificial moon.
Ep. 5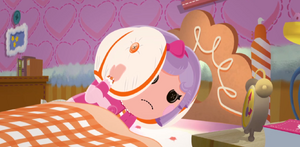 Original Air Date 04/08/13
Plot Pillow wants to count Little Bah Peep's sheep, but then when they all run wild, Pillow and Little Bah need to do something.
Ep. 6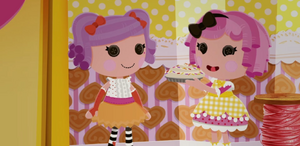 Original Air Date 04/09/13
Plot On April Fools' Day, Peanut plans to prank everyone in Lalaloopsy Land.
Ep. 7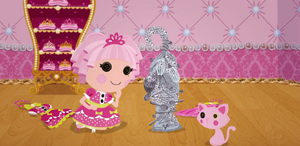 Original Air Date 04/10/13
Plot When Spot gives Jewel a gift she made herself, Jewel has no idea what to do with it.
Ep. 8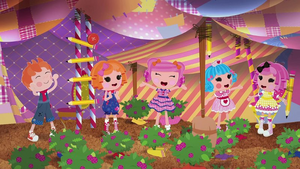 Original Air Date 05/03/13
Plot When Mittens' house gets snowed in, Ace and Sunny have to help her out. Meanwhile, Berry's berries start to freeze and her friends have to help keep them warm.
Ep. 9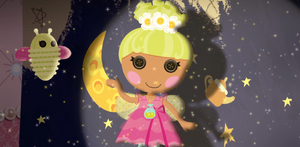 Original Air Date 05/20/13
Plot Pix E. is chosen to be the shooting star of the Sparkle & Shine Party hosted by Jewel, but when she has to be able to fly up high she must learn to overcome her fear of heights.
Ep. 10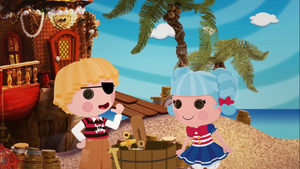 Original Air Date 05/21/13
Plot When Marina decides to tidy up Patch's house, he gets upset. In order for Marina to make it up to him, she takes Patch on a treasure hunt to find his lucky shovel when it goes missing. 
Ep. 11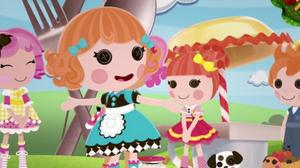 Original Air Date  05/22/13
Plot When business is booming, Pickles asks Crumbs and Pepper to help out at the diner. But when on a delivery she injures her ankle, she has to find a way to fulfill the delivery of burgers to Peanut's Air Show.
Ep. 12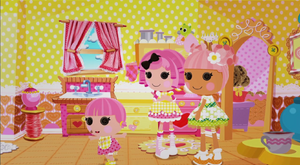 Original Air Date 05/23/13
Plot After Blossom grows a marshmallow tree for Sprinkle, the other Littles want trees of their own.
Ep. 13
Original Air Date 07/15/13
Plot
Ep. 14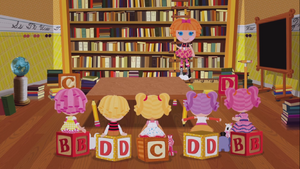 Original Air Date 07/16/13
Plot When Bea begins to question what her hobby is, she sets out to discover what it is by observing her friends. 
Ep. 15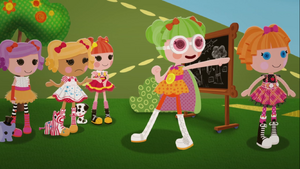 Original Air Date 07/17/13
Plot Dyna Might holds auditions for a new sidekick when she realizes she doesn't have one. 
Ep. 16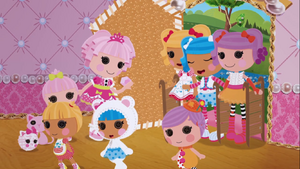 Original Air Date 07/18/13
Plot When Jewel refuses to let Trinket go sledding with Mittens, she wanders off on her own while Jewel babysits the Littles. 
Ep. 17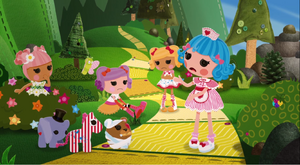 Original Air Date 07/22/13
Plot When the girls encourage Rosy to take a break for once and join them in a relaxing hike to the highest point in all of Lalaloopsy Land she struggles to resist her helpful nature.
Ep. 18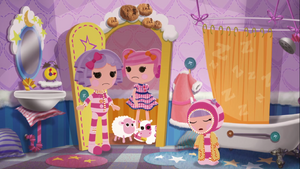 Original Air Date 07/23/13
Plot Pillow tries to figure out why Blanket is sleepwalking so she comes up with ways to keep her in bed. 
Ep. 19
Original Air Date 07/24/13
Plot When Sunny has Spot paint her cornfield fence, her friends begin criticizing Spot's art and she no longer feels like her work is her own.

Ep. 20
Original Air Date 08/26/13
Plot Blossom tends to a special plant that has a very short life cycle.

Ep. 21
Original Air Date 08/27/13
Plot After Rabbit vanishes during practice, Misty worries she may not be able to perform for Specs's birthday party.

Ep. 22
Original Air Date 08/28/13
Plot Dot catches a falling star, but then she realizes must release it in order to allow it to shine.

Ep. 23
Original Air Date 8/29/13
Plot Forest's and Jewel's hands get stuck together because of a misstep in Misty's magic trick.
Ep. 24
Original Air Date 12/6/13
Plot When it doesn't snow on Joyful Holiday, Holly must find a fast way to deliver all her gifts to her friends. 
Ep. 25
Original Air Date
Plot Jewel prepares for the Button Harvest Festival but the tin can phone lines get crossed which leads to confusion about everyone's role in the festivities.
Ep. 26
Original Air Date
Plot Crumbs tries to bake Sunny a mabelnut muffin, but first she has to track down a rare mabelnut.
Short Episodes
Ep. 1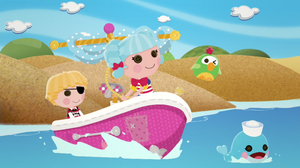 Release Date 04/02/13
Plot Marina and Patch piece together clues on a map they find drifting in the sea. 
Ep. 2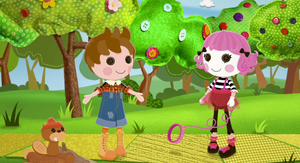 Release Date 03/29/13
Plot Charlotte wants to build Pet its own invisible house and her friends come to help her.
Trivia
 

Lalaloopsy

™ premiered on Nick on March 29, 2013. 

The characterization of the TV series differs from that which was depicted in the first full-length DVD movie. Noticeable character changes include: Pillow Featherbed who no longer feels the urge to nap at every moment in the day. Dot Starlight who no longer owns an airplane. Bea Spells-a-Lot who now relies heavily on her library of books for every situation. Jewel Sparkles who no longer has a fascination for ballet like her friend Tippy Tumblelina and has dropped her aspiration for dance. 
Gallery