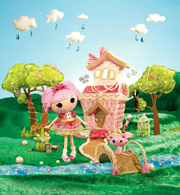 Jewel's house is where Jewel, Cat, Trinket and Yarn Kitten reside. It is located on the grasslands of Central Lalaloopsy Land.
The house
Jewel lives in a delicate, pink, princess-like home decorated with gems, accessories, and glitter!  Her house is made of pink silk edged with magenta ruffles,white lace, and gold glitter.  Her roof is adorned with a necklace of gold and pearls.  At the very top of her house is a big pink ribbon. The pathway leading to her house is lined with multiple pearls.
Media Appearances
TBA
Visitors
Ad blocker interference detected!
Wikia is a free-to-use site that makes money from advertising. We have a modified experience for viewers using ad blockers

Wikia is not accessible if you've made further modifications. Remove the custom ad blocker rule(s) and the page will load as expected.