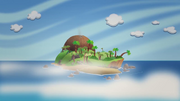 Disclaimer
Warning: This page or section contains speculation that may not be accurate.
The Island of the Smoky Peak is a tropical island situated across the Western coast of Lalaloopsy Land. It is isolated and only inhabited by the natives namely Mango Tiki Wiki, Kiwi Tiki Wiki and the exotic critters. Isolation came to an end, when Patch Treasurechest arrived and took and introduced Mango to the mainland. Mango returned shortly and brought along with her some gifts and lessons from her mainland visit.
Whirly Stretchy Locks came to the island, in search for the Exotic Honey Petal and succeeds but fails to extract it. She also never encountered Mango and/or Kiwi.
Areas of Interest
Map
<imap map-id=13512/>
Ad blocker interference detected!
Wikia is a free-to-use site that makes money from advertising. We have a modified experience for viewers using ad blockers

Wikia is not accessible if you've made further modifications. Remove the custom ad blocker rule(s) and the page will load as expected.