Disclaimer
Warning: This page or section contains speculation that may not be accurate.
Haley's landing site is where Haley and her pet alien were recently located. It is located on the surface of the Moon.
The site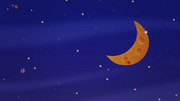 It is a grounded flying saucer. The terrain beneath her saucer seems to have an abundance of craters which mimic those on the surface of the moon. The trees in the area are decorated in bits & bobs as well as random dishes and discs. A mirror ball object with a ring around it is present in the sky's horizon.
Assumptions
The spacecraft itself was used as transportation and very likely Haley might have a house on the moon. If not, she would have converted her spacecraft into one.
Media Appearances
There were no scenes of her landing excluding her impact on the surface from only Earth's view.
Visitors
There are no known visitors.
Ad blocker interference detected!
Wikia is a free-to-use site that makes money from advertising. We have a modified experience for viewers using ad blockers

Wikia is not accessible if you've made further modifications. Remove the custom ad blocker rule(s) and the page will load as expected.