Furry Grrs-a-Lot loves to stomp around and practice her really loud Grrrrr! sound. But sometimes she catches her reflection in the mirror and she scares herself. Her name comes from the furriness of her ensemble, as well as the fact that she likes to grr a lot!
About Furry
Appearance
Furry has fair skin with big black button eyes and pale pink cheeks. Her purple hair is worn in low pitails with points giving them a vague appearance to a bats wing. A blue monster hoodie is worn over it.
Furry wears a tulle magenta dress with a secondary layer to her skirt that is powder blue in color to match the neck and her fluffy boots. She also has white and black striped pantyhose, and at her neck is a bright, light green bow. She also has fuzzy boots that under all the fuzziness, she has on little red monster feet looking parts of the shoe.
Pet
Furry's pet is a purple cyclops monster with a pink bow, lime green horns and blue feet.
Home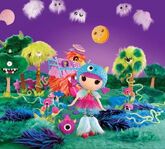 Furry lives in a pink house with a purple fuzzy roof.
Trivia
July 27th is International Monster Day.
Furry resembles both Boo and Sulley from Monsters Inc.
Before she was revealed to be a monster, some people thought her to be a bear, like Teddy Honey Pots.
Her hairstyle is different than other down ponytails because of the ends.
Her hat is not removable, just like Teddy's.
Her name was thought to be Fuzzy Grrs-a-Lot.
She was released with Queenie Red Heart and Sweetie Candy Ribbon.