Dyna's house is where Dyna, Raccoon, Tiny and Hedgehog reside. It is located on the grasslands of Central Lalaloopsy Land.
The house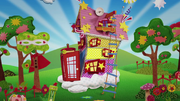 Dyna Might's home is super amazing! Her house rests on a cloud hovering in the sky. It's decorated in many gold stars all across its walls and roof. Hanging from the top window is a long rope-ladder, allowing her friends to come over. Right next to her home is a red telephone booth where Dyna changes into her costume.
Media Appearances
Visitors
There are no known visitors.
Trivia
TBA
Ad blocker interference detected!
Wikia is a free-to-use site that makes money from advertising. We have a modified experience for viewers using ad blockers

Wikia is not accessible if you've made further modifications. Remove the custom ad blocker rule(s) and the page will load as expected.