Dot Starlight was released first in July 2010 as a standard large doll. She is the seventh character-doll. Dot was and still remains to be the Lalaloopsy doll with the darkest complexion. Dot unfortunately is not a popular in merchandise and is thus far the most elusive character in any line. Out of all other characters in her series, she is the only to not have a designated Little sibling doll, soft doll, and/or Silly Hair - Loopy Hair, as well as having no additional mini other than her original.
Merchandise
Doll(s)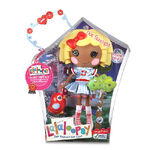 Line:
Large
Release: July 2010
Description: Dot Starlight as a standard large core doll, the first merchandise for this character.
Trivia: Originally labeled Bitty Buttons.

Line:
Large
Release: August 2013
Description: Dot Starlight was re-released as a standard large core doll for a limited time with the original series.
Trivia: Unlike her original Bitty Buttons/Lalaloopsy releases, she now has a drainage hole.
.
Gallery
Ad blocker interference detected!
Wikia is a free-to-use site that makes money from advertising. We have a modified experience for viewers using ad blockers

Wikia is not accessible if you've made further modifications. Remove the custom ad blocker rule(s) and the page will load as expected.