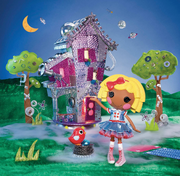 Dot's observatory is where Dot and her pet bird reside. It is located on the grasslands of Central Lalaloopsy Land.
The Observatory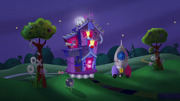 It acts as Dot's own personal observatory. Its roof has several large telescopes installed around it allowing Dot to gaze at the starry sky. The walls are metallic and silver, similar to a space shuttle or an astronaut's suit. The windows are round and reminiscent of those inside rocket ships. Dot's stellar home is the perfect spot to observe constellations and learn about space.
Media Appearances
TBA
Visitors
TBA
Ad blocker interference detected!
Wikia is a free-to-use site that makes money from advertising. We have a modified experience for viewers using ad blockers

Wikia is not accessible if you've made further modifications. Remove the custom ad blocker rule(s) and the page will load as expected.