Sewn on: October 27th (Hug a Sheep Day)
Sewn from: A Warm Wool Sweater
Personality: Baaashful
Appearance: Wooly is pink faced with white fluffy wool hair and ears. She has a tiny pigtail on the side of her head held by a powder blue bow. Her cheeks are bright pink to match her hooves and she wears a powder blue dress with many white ruffles and a hot pink silk belt.
Includes: A little lamb themed cupcake.
Sewn on: September 1st (1st day of Happy Cat Month)
Sewn from: A Ball of Yarn
Personality: Curious
Appearance: Purrty is orange with dark orange markings and bright pink nose and cheeks to match her paw pads. She wears a pink hair bow on the left ear, a red-pink shawl with bow and white ruffles, and a pink picnic blanket skirt with white tulle frills.
Includes: A pink milk carton
Sewn on: December 14th (International Monkey Day)
Sewn from: A Left Sock
Personality: Silly
Appearance: Tickles is brown with a tan-brown face, inside ears, and paws. She has light pink cheeks and wears a big red bow on the middle of her head. Her dress is orange with red, light orange, and white markings, fuchsia buttons attached to red straps and neck piece, and red pom-poms lining the skirt.
Includes: A chocolate covered banana
Sewn on: March 1st (National Pig Day)
Sewn from: A Farmer's Hat
Personality: Messy
Appearance: Belly is pink with fuchsia cheeks and dark pink hooves and ears. She has a fuchsia bow with tiny white polka dots, a pair of dark blue denim overalls/shorts held with fuchsia buttons and decorated with white flowers. Around her neck is a red neckerchief.
Includes: A candy apple
Sewn on: February 15th (National Hippo Day)
Sewn from: A Floaty
Personality: Splashy
Appearance: She is light turquoise and has 2 flowers on her ear: one pink and one orange.
Includes: A popsicle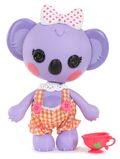 Sewn on: September 26th (Save the Koala Month)
Sewn from: A Teapot Cozy
Personality: A real climber
Appearance: She is a purple koala.
Includes: A teacup

Sewn on: March 16th (National Panda Day)
Sewn from: Royal Silk
Personality: A bit of a princess
Appearance: A pink panda with blue outfit.
Includes: A mirror
Sewn on: September 27th (International Rabbit Day)
Sewn from: A cotton ball
Personality: Springy
Appearance: A yellow rabbit.
Includes: A cupcake
Ad blocker interference detected!
Wikia is a free-to-use site that makes money from advertising. We have a modified experience for viewers using ad blockers

Wikia is not accessible if you've made further modifications. Remove the custom ad blocker rule(s) and the page will load as expected.