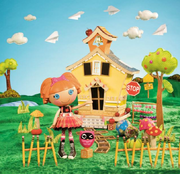 Bea's library is where Bea, Owl, Specs and Bookworm reside. It is located on the grasslands of Central Lalaloopsy Land.
The Library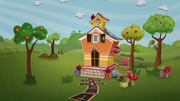 It resembles a school house. On the outside she has a small stop sign to the left of the door, a pencil fence, and ruler steps. The pathway leading to the school resembles a hopscotch board while the windows resemble chalkboards. She has a bell at the very top of the building. The fences are made out of pencils.
Media Appearances
Visitors
Ad blocker interference detected!
Wikia is a free-to-use site that makes money from advertising. We have a modified experience for viewers using ad blockers

Wikia is not accessible if you've made further modifications. Remove the custom ad blocker rule(s) and the page will load as expected.