Lalaloopsy 3D Land gives every Lalaloopsy fan a chance to play with their very best Lalaloopsy friends in their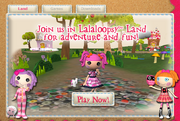 world! It updates on occasion to add more conrent and more Lalaloopsy to play as and visit. This page will detail every single thing available while being up to date.
As of currently there are a total of 15 Lalaloopsy's to play as/with. Each comes with her own pet, and has changeable outfits.
3D Land uses Unity Player.
Controls
On the main screen you have scenery, your Lalaloopsy of choice and three hanging button signs. The Main menu, where you can pick a map location, change outfits, change lalaloopsy, and leave to play games on the other part of the website. You can also change the games size, and music.
You simply use the arrow keys to move around, and when a ! icon appears it means you can click on an object to interact with it. Special activites (view below) can be controled specific ways.
Playable
These are the current Lalaloopsy you can pick from and visit. Each of them has some unique animations that they do that others may not do:
Outfits
Each Lalaloopsy has her own attire. So far there are 7 outfits for girls, and 3 for the single male in game, which are just edits of his clothing. Bringing them to a total of 10 outfits.
Basic Costume
Bathrobe
Pajamas
Party Dress
Party Dress Red
Swimsuit
Raincoat
Travel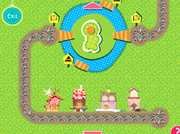 For easier access, a map has been installed in order to transport around the 3D Land. In order, the map goes as follows:
Jewel's house, Pillow's, Crumbs, Peanut. Then up the path you reach the boats and crossing section where the park is located.
Going upward on the map leads you to Mittens, Bea, Spot, and Dot. Then a little further up, you reach Patch, Swirly, and Coral's house.
Main Menu
When you click the main menu, you will see the following options:
My Doll: Which allows you to pick which Lalaloopsy you wish to play as
Map: Which lets you travel around Lalaloopsy Land.
Mini Games: Which takes you to the games page.
My Dressup: Which allows you to change the outfits..
In the corner is an exit button, clicking this will take you out of the main menu.
Park and other random Activites
At the Park/playground you can do many activites with your Lalaloopsy.
Tippy-Totter: Your Lalaloopsy rides on one side while their pet is on the other. Use the right key when lalaloopsy hits the ground, and left when its the pet.
Candy Carousel: Simply tap the right or left arrow keys and watch your lalaloopsy and pet swing around!
Ducky Spring Rider: Your lalaloopsy sits in this cute duck themed riding toy while the pet rides the front. Use any arrow key to rock Lalaloopsy
Button Bouncer: Smply use the up arrow key to make your Lalaloopsy bounce
Jungle Gym: You simply move around controling your Lalaloopsy. First begins up a small ramp, then cautiously move across a pole, then up some steps, over a circled part, then down the slide!
Swayin' Swings: Lalaloopsy and Pet both sit on seperate swings. Up and Down controls the pet, while Left and Right controls the lalaloopsy
Other activities include:
Boat Ride: Use any of the arrow keys to control the boat.
Ice Skating: To reach Swirly's house you must cross the frozen waters! Use the arrow keys.
Swimming: Works much like the boat ride and Ice skating. Your Lalaloopsy takes on a mermaid suit and will swim underneath the waters to reach Coral's house.
Kite flying:
Presents
As you explore the world of Lalaloopsy Land, you will find purple present boxes with a "?" on them. Touching them will make multiple sparkles and an item visably float around your chosen doll for a minute or two before vanishing and you can have more then one at a time So far there are:
Pencils
Cupcakes
Flowers/Daisies
Pink flower petals
Hearts
Apples
Rain drops and a few small storm clouds
mini stars
Sparkles/glitter
Ribbons/bows
Snowflakes
Butterflies
UPDATE
Only the most recent updates information will be put here:
A colorful pathway has been put on certain spots
New activities
Slightly better graphics
A special door leading to the Lala-oopsies page
Mitten's land has had an entire rehaul in design
The ability to use a pirate ship to reach Patch's home.
Trivia
Mitten's name is misspelled as "suff" instead of "Stuff".
Occasionally you will encounter a rain cloud
So far, the only playable characters without a home is Tippy,  Sahara, Berry, Blossom, and Sunny.
Spot's skin is lighter then it normally appears.
Originally, the minigames could be played through 3D land but as of its latest update it's been removed. Now if one wants to play the mini games they will be taken to the games page of the website, shutting down 3D Land.
Gallery
Ad blocker interference detected!
Wikia is a free-to-use site that makes money from advertising. We have a modified experience for viewers using ad blockers

Wikia is not accessible if you've made further modifications. Remove the custom ad blocker rule(s) and the page will load as expected.